Dream of Studying Abroad?
RK Overseas is the best overseas education consultant in Hyderabad we have professionals who help students and their families navigate the process of studying abroad. RK Overseas Education consultants are typically experts in the field of international education and have extensive knowledge of the different study abroad programs, universities, countries, and education loans for abroad studies that students can choose from. We offer a wide range of services, including helping students choose the right program or university, assisting with the application process, providing guidance on visa requirements, and advising on financial aid and scholarship opportunities.
One of the main advantages of an RK Overseas Study abroad consultant is that they can provide personalized guidance and support to students throughout the entire process. We can help students identify their goals and interests, and then recommend programs and universities that align with their needs. We can also provide valuable insights into the culture and lifestyle of the country where the student plans to study, which can help them prepare for their new surroundings.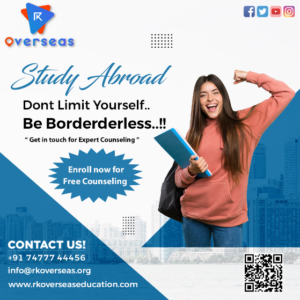 Another advantage of an RK Overseas abroad education consultant is that We can help students navigate the complex application process. This can include helping students prepare their application materials, such as essays, transcripts, and letters of recommendation, as well as providing guidance on any language or other requirements that must be met. We can also help students identify and apply for financial aid and scholarships that may be available to them..
Ultimately, RK Overseas Study abroad consultants can help students achieve their dreams of studying in another country. By providing personalized guidance and support throughout the process. RK Overseas study abroad consultants in Hyderabad can help students overcome any obstacles and make the most of their study abroad experience.